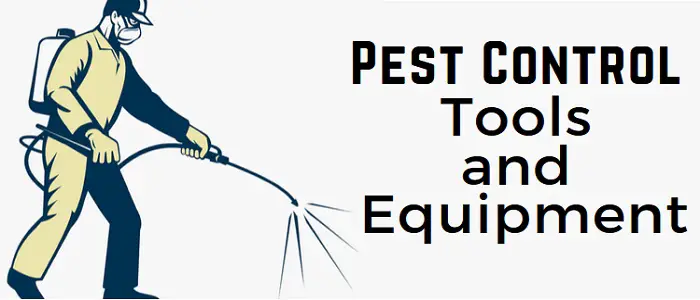 Looking for the best tools and equipment you can use for controlling pests at home?
You are in the right place!
Here on this page, I have listed down my top picks based on what I have used in homes and gardens.
These are the products I recommend to all the do-it-yourselfers homeowners who are frustrated with the critters at their homes.
I try to update this pest control tools and equipment list regularly to make sure it is up-to-date.
If you plan to check your backyard, garden, attic, or roof for removing the annoying pests, I recommend investing in quality tools as they can save you a lot of time and effort in the long run…
So, without any delay let me start with my list of exterminator tools…
*Disclaimer: As an Amazon Associate, I may earn from qualifying purchases at no extra cost to you.
1- Cages, Traps and Baits
When it comes to choosing a trap for pest control, there are a variety of different brands, sizes, shapes, and techniques that are available.
For example, there are traps that come with one or two doors.
Also, the cages can be small or big. These can also be kill-type or live trap.
Small critters like mice and rats can also be trapped by using sticky traps, snap traps, box traps, etc.
So, depending on the type of wild animal (or birds) you want to catch, you will need to decide on the trap you will need.
Remember that depending on your area, the pests may react differently to different cage types.
Also, you will need a right kind of bait depending on the animal you want to capture.
So, it's important to check carefully and decide on which type of cage and bait you will need to trap the specific pest.
2- Repellents or Deterrents
Repellents or deterrents are exactly what it sounds like.
These stop the pests from coming inside your property and helps in keeping them away without creating any mess or damage.
These can be either chemical-based (like sprays or granules that produces strong pungent odor) or ultrasonic repellents that emits sound waves that are heard only by animals.
Since the pests reacts adversely to both these methods it helps in deterring the pests from far.
For pests that usually nests outdoor in the garden, there are also fake owl decoy or scarecrow available that can help in repelling the birds away.
Remember, these methods can also be troublesome for your pets.
So, if you have pets in home you should try these devices with care.
3- Sealants for Holes and Cracks
Proper sealants for cracks and holes are necessary if you want to protect your interiors from pest invasion.
These foaming sealants when applied properly will avoid indoor pests from creeping into your home through gaps, holes, cracks, and small spaces around the door and windows.
There are different brands like Locite, DAP, Everkem, and others available on the market.
Depending on the climatic conditions in your area, you will need to buy a foaming sealant that works well for your pest-controlling project.
The copper mesh also works great for sealing the holes, and cracks which will help keep rats, mice, birds, and other wildlife out.
4- Chemical Sprayers and Foggers
Chemical sprayers for pest control are available in two different varieties i.e. organic or synthetic chemicals.
Chemical sprayers are also categorized as backpack sprayers, green sprayers, vector control sprayers, electric reel power sprayers, pole sprayers, etc.
There are also types of foggers like aerosol foggers, cold foggers, compressed air foggers, thermal foggers.
It's essential to decide which one to choose before you buy them online.
The one you will need will largely depend on the kind of animal you want to remove, the area you want to spray in, and your budget.
5- Stabilized Ladders and Stepladders
Ladders for pest control are among the useful tools when you want to remove the pests (or even the dead animal carcass) that are nesting at a height.  
Birds, for example, can be nesting in your garage or attic.
There can be eggs that you want to safely remove.
Ladders pre-equipped with stabilizers come in handy for this purpose.
A stepladder can also be a great piece of equipment for indoor use as it can help you access hard-to-reach places.
When deciding to buy make sure you buy the ladder that is cost-effective, durable, and safe to use.
I personally use a Little Giant Ladder and it works very well for my everyday needs.
6- PPE (Personal Protection Equipment)
PPE is the most important of your supply list, when it's about controlling the pests safely.
Although, PPE can be bulky to wear, it's incredibly useful because it saves your life.
And for this reason, using an appropriate PPE is mandated by the EPA, especially for the professionals who are working as pest removal experts.
Some of the Personal Protection Equipment you will need to consider purchasing include:
Masks
Gloves
Respirators
Earmuffs
Bee suits
Booties or shoe covers
When buying make sure that the PPE piece is according to the EPA standards and is completely safe to use for your specific project.
---
Other Miscellaneous Tools Worth Buying
In addition to all the above must have pest control equipment, you may need few other tools that may help to accomplish you job with greater ease.
Some of these are:
Scissors
Screws
Drills
Clippers
Screwdrivers
Razorblades
Pole webster with duster
Flashlights, Lantern and headlamps
All of these tools and accessories can be easily found at hardware near you or you can simply purchase them online at stores like Amazon.
---
Do You Need a Pesticide Skid Spray Rig for Treatment?
Depending on the size of area you want to treat, the answer can be yes or no!
Pest control skid sprayers are the spray equipment that is generally used by professionals for treating large areas (like your lawn) in a short amount of time.
Since, this professional skid sprayer tool needs certain skills and preparation to operate, you should consider buying this if you are aware of how to operate it correctly.
Plus, devices like skid sprayers, UV stabilised spray tanks, retractable hose reel, secure storage boxes, etc. can be expensive to buy and are not worth purchasing for treating smaller areas.  
So, if you are a serious DIYer who want to treat large areas of your grassland in less time, a pest control electric spray rig can be a great tool for you.
Final Thoughts
All the above, pest control tools and equipment are incredibly useful, no matter you are a DIYer or a professional.
Depending on the requirements and budget, you should choose the ones that can ease your task.
Also, it's worth paying attention to the customer's reviews and ratings before you buy any of this equipment for controlling the pests in your home or garden.
*Proshieldpest.com is a participant in the Amazon Services LLC Associates Program, an affiliate advertising program designed to provide a means for us to earn fees by linking to Amazon.com and affiliated sites.