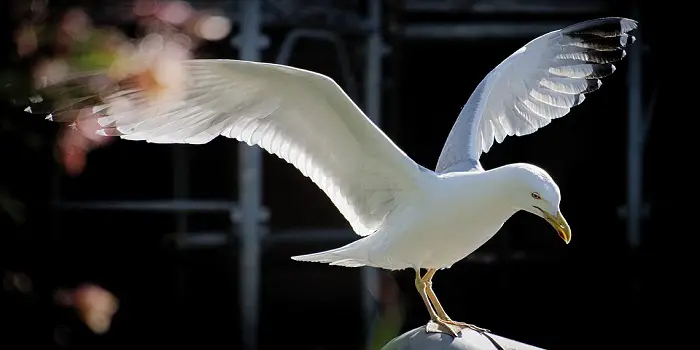 There are many advantages to living along the coast, but one issue that most people do not enjoy is the presence of seagulls.
It's not just the constant squawking to the droppings they leave, seagulls can be a real nuisance to humans.
What's even worse is that they have been known to attack people for various reasons and they present a genuine risk to your health due to the droppings they leave behind.
If seagulls were only along the beach, that would not be too big an issue.
But many seagulls love to nest in chimneys which makes them dangerous to you, your family, and your home.
So, it's little wonder that many people want to rid their neighborhood of this pest.
There have been several proven methods of keeping seagulls away.
But before you decide to employ any of them, it is important to understand what seagulls are and why they decide to nest on chimneys.
What are Seagulls?
Seagulls are large water-birds (with webbed feet) that can be up to 16" tall and have a wingspan reaching 40".
Seagulls are noted for their white or light gray feathers on their body with the wings being tipped with black.
Seagulls are not migratory, but rather once they find a home they tend to stay in the area for the rest of their lives.
Because seagulls tend to stay in one area, they may also run out of their normal food supply.
When that happens, they will attack people for the food that they are carrying.
It is the presence of food sources that have them gathering at boardwalks, beaches, and especially the local dump.
Seagulls are rarely found alone as they prefer to travel in flocks. It is why they can be so noisy as they squawk at each other constantly.
During the summer months of July and August, seagulls breed and build nests made of plankton, seaweed, and moss.
It is during this time that they look for the most suitable place to build their nest.
Unfortunately, chimneys are quite tantalizing to seagulls who are looking for a safe place to raise their young.
Why Do They Nest on Chimneys?
Chimneys are perfect spots for seagulls to nest.
Most chimneys have openings that are small enough to secure a nest, yet large enough to hold all the eggs.
Because seagulls use natural material that tends to become strong as it dries, a nest can hold up well atop a chimney under most conditions.
But the main reason seagulls love to use chimneys is that they are high enough to be safe from almost all predators (like eagles).
Nesting on a chimney is akin to building a nest along a cliffside.
So, if you have a chimney and live near the coast, you may have issues with seagulls building nests for their chicks.
---
7 Ways to Stop Seagulls from Nesting on Chimneys
What makes seagulls such a persistent pest is their high intelligence.
Seagulls tend to spot most deterrents such as fake owls or other fake predators rather quickly.
Combine that with their determination to stay and you have a real issue on your hands.
What follows are seven common methods used to keep seagulls away from your property and off your chimneys.
1- Avoid Feeding Them
This is rule number one.
If you do not leave any food around your property, a seagull will have less interest in staying there.
Feeding seagulls is probably the worst thing you can do as they will never forget your face and identify you as a source for food.
If you feed them, they can even become aggressive and can attack you.
Of course, your chimney may still be vulnerable if there is a food source nearby (like a birdfeeder), but there are ways to deal with that.
2- Cover the Chimney
You can use a combination of a hood and grate that makes it impossible for the seagulls to build a nest on your chimney.
The grate helps keep out the feathers and materials used to build the nest.
But it is the hood or pipe that redirects the smoke which will be most effective.
Because the hood creates a round slope, the nest has nothing secure to be held.
Covering the chimney with a chimney cage can also prevent gulls from using the chimneys for nesting.
So, you may try it if you do not have a hood and grate available.
3- Dogs
A sheepdog is most effective in keeping away the birds off your property.
One dog that chases the seagulls will be perceived as a predator and the gulls will usually stay away.
However, keep in mind that seagulls are protected under federal law.
So, if your dog manages to catch and kill one of them, you might be in trouble.
4- Noise
If you live away from others, then having something that makes noise such as explosive sounds will keep the seagulls from flocking over your home.
A random blast such as from a cannon or gun is quite effective.
As a better alternative you can record and playback the noises of other predators randomly in your backyard to keep the gulls off.
The only downside is that you will have to put up with the noise.
5- Reflectors
Fake owls and other predators do not work well once the seagulls figure out that they are not real.
Reflectors are more effective and require less maintenance.
Even seagulls are frightened by reflected light, so put them around possible food sources such as your garden or where your pets feed.
There are also few evidences that shows seagulls tend to avoid color red.
So, if you want you can paint your chimneys with color red that may repel the gulls away.
6- Water Guns
These are most effective when you combine them with a motion detector, so they go off when the birds gather near your chimney or around your property.
Water blasters are safe and will not harm the birds, but they will not like it and so they will leave.
You can even use these water guns as an efficient way to deter some seagulls if they are in your porch, patio, garage, or even on your boat.
When placed/used properly these can even help you deal with most scavenging gulls.
7- Professional Assistance
If you have tried one or more methods with no success, it is time to call a professional pest control expert.
If you live near the coast, there will be pest control companies that focus on getting rid of seagulls.
They can install a system that keeps the seagulls away from your chimney, so you can live in peace.
It may come with a cost, but their service will be more than worth it if you cannot get rid of them on your own.
And that is how you can deal with seagulls nesting on your chimney.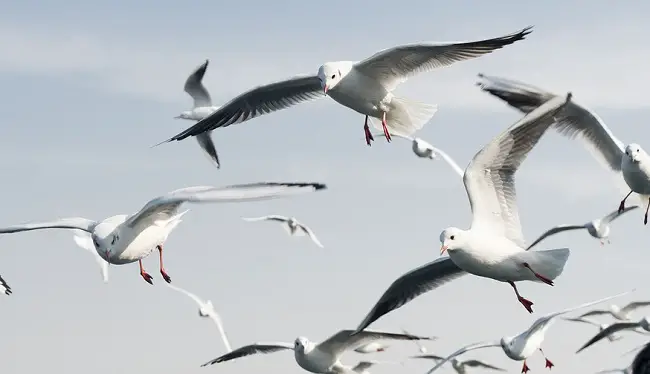 ---
What Does It Mean When Lots of Seagulls Circle?
According to the Farmers' Almanac, seagulls are among the most intelligent birds that can predict the weather.
By staying grounded and flying low over the surface of the water they can predict the storm before it hits.
Gulls are also seen to fly in tight, circular flocks when they want to adjust or balance to slight air pressure changes.
Just like a barometer, these birds can sense even the smallest changes in air pressure that indicates to bring a storm.
It is because of this amazing ability to predict earthquakes and storms; gulls can easily survive storms when other birds fail.
---
How Can You Avoid the Attack of Aggressive Seagulls?
Dealing with aggressive seagulls can be challenging if they are nesting on your roof.
If gulls see you proceeding, they will frighten you or can give some warning calls so that you can move away from them.
But keep one thing in mind that they can get very violent and can even attack you for the safety of their chicks if you still want to go near.
When attacking, gulls will generally strike, peck or bite.
They can also make a contact with your head with its feet – which may cause some injury.
So, always wear a hat to protect your head.
Keep a stick or an unfurled umbrella with you to protect yourself, just in case gulls try to swoop at you.
To survive the attack and avoid getting the target of a swooping gull, raise your arms (without waiving) and try to move away from the area.
If you wave, gulls may get even more hostile.
Also, remember not to use any methods to kill or harm the gulls.
Many people try using killer zappers to shock the gulls to death.
But it can get you in trouble, so avoid them.
It's best for you to just defend yourself without harming the birds in any way.
Other Related Questions:
Why do gulls stand on one leg?
Many times, you will see gulls standing on a single leg – like if they have only one.
This can be due to various reasons.
1- Usually its the case when they just want to rest their one leg while standing all day long.
2- Gulls also tuck one of their foot deep within the feathers during the cold to keep them warm.
While doing so, they often change their feet for heat distribution.
3- The other reason of this unusual posture of gulls is they are very resilient.
At times their legs can get caught up in the nets (when they spend most of their time in freshwater).
And when they try to get them out it may cause accidental amputation.
Why do seagulls stomp the ground?
Gulls usually feed on freshwater invertebrates, terrestrial arthropods, and invertebrates such as insects.
When on land they want to feed on earthworms they stamp their feet on grass and can perform feet-tapping dance.
The action lets the worms out of the ground believing that it is raining and they can spend some happy time on the moist soil surface.
What kind of noise do seagulls make?
There are more than 50 species of gulls found worldwide.
Some of these include common gull, laughing gull, black-headed gull, silver gull, grey gull, yellow-legged gull, black-tailed gull, California gull, American herring gull, etc.
Different species of gulls make different sounds.
While some may purr and grunt, others may squawk, laugh, croon, cry, squeal, hoot, or coo.
Many times, gulls will yell or scream to warn other members about the coming danger so that they can get ready to fly off.
The Conclusion
Seagulls are water birds and are usually found near the sea.
However, in search of food and shelter, they may use their amazing hunting skills and nest inside your chimney along with their young ones for a long.
For any reason, if you do not want them around your property, you can try out various ways as I listed above.
Hopefully, they may stop coming and find some other place to stay.
Share the post "How Can I Stop Seagulls from Nesting on My Chimney?"
Welcome to ProShieldPest.com. I am Tina Jones. I have been lately working as a pest removal professional in Winslow, Arizona. At present, I love to spend my time with my family as a retiree.
Here I share all my knowledge and experiences to help people understand better how they can stop pests at their homes without actually killing them. Hopefully, the information you will find here useful that can help in safeguarding your home! You can check more about me here.
Or in case you need to hire professional pest control services near your area, you can Click Here to get free instant quote now. We have already partnered with exterminators and companies to bring you exclusive discounts. Get in touch with them and we assure you get the priority service for all your pest control needs.