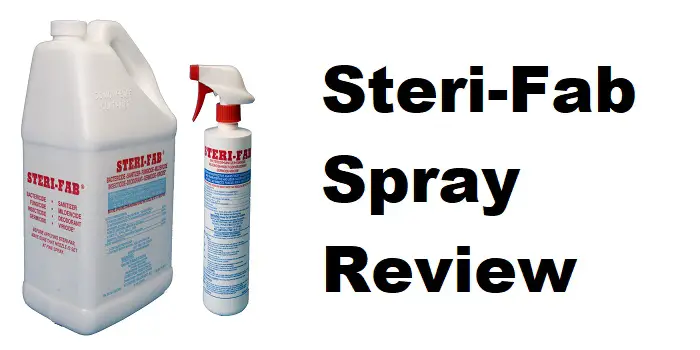 If you are looking for a top-quality disinfectant and an effective pesticide that kills insects, Steri-fab is the best option.
It can last for a maximum of fifteen minutes on the body surface and kill different types of pests like bed bugs, fleas, ticks, and their eggs.
Also, it does not leave any trace or residual effect when it dries up.
Properties
It's a contact killer that is colorless and odorless.
It can be used in areas with personal traffic due to its deodorizer and disinfectant properties.
You can use it as a disinfectant, sanitizer, viricide, fungicide, bactericide, fungistatic as well as bacteriostatic.
The Pros
A product especially made for different microorganisms like bed bugs, fleas, ticks, etc.
It kills all types of viruses, fungus, mold as well as mildew.
The process of killing microbes also works even at the cellular level.
It can be used for all types of surfaces and spaces.
You can apply it on your carpet, mattress as well as on furniture.
The spray does not require any mixing; it is ready to use the product.
The Cons
Steri-fab has no residual effects after drying. Therefore, it is not suitable for outdoor usage.
Product Feature and Composition
If we look at the ingredients from which Steri-Fab spray is made, it consists of a synthetic pyrethroid insecticide & isopropyl alcohol.
Which it acts as a sanitizer, bactericide, germicide, fungicide, mildewcide, viricide, deodorant, fungistatic as well as bacteriostatic.
The product formula consists of a material with the following ingredients. Isopropyl alcohol, 1-Decanaminium, N-decyl-N, N-dimethyl, chloride, Phenothrin.
The ratio of each ingredient is:
Isopropyl alcohol 60.39%
Phenothrin 0.22%
1-Decanaminium, N-decyl-N, N-dimethyl-, chloride 0.11%
Alkyl* dimethyl benzyl ammonium chloride 0.08%
Normally Steri-Fab spray comes in the form of 16 oz. bottle. You can buy it in the form of a single or pack of Twelve bottles pack.
A Gallon pack is enough for spraying a 1500 Square feet area.
Steri-Fab Spray: Applications and Target Pests
The Steri-Fab Spray has a wide range of applications due to its multiple properties and nature.
Some of the primary applications are listed below.
It is used in different pest control methods to treat pests and insects in homes, offices, hospitals, nursing homes, schools, restaurants, hotels, apartments, and warehouses.
It can be used as a disinfectant in bathrooms, kitchens, and other living areas.
It can be used as a deodorizer for mattresses as well as furniture.
You can also use it at daycare centers, waiting rooms, and transport vehicles such as taxis, buses, and cabs.
Most people think that Steri-Fab spray is only helpful for bed bugs and their eggs.
But let me clear it to you that you can use it for other types of pests like Fleas, Lice, Louse Eggs, Dust Mites, Ticks, Mold, Mildew, Roaches, etc.
You can also use it for eliminating Silverfish, Centipedes, Firebrats, Mites, Gram-negative, Fungus, Athlete's Foot Fungus, Odor-Causing Organisms, and gram-positive bacteria.
Precautions When Using Steri-Fab Spray
Steri-Fab spray does not require any personal protective equipment during operation, nor it require any dilution before.
All you need is to shake well before use.
But due to alcohol and insecticide ingredients, proper care must be taken as it can cause serious eye irritation if mishandled.
Use a protected handler for safe usage.
Keep away from fire and do not smoke while handling Steri-Fab spray as it is highly inflammable.
It can also cause dizziness if mishandled during use
Keep all types of pets, birds, and food items away from the spray
Don't apply on food handling surfaces and eating utensils
Take off the contaminated clothes if spray came in contact
Or in the case of skin, rinse the skin with water properly for about fifteen to twenty minutes
In case of inhalation, move to the fresh air
Don't contaminate it with water
Avoid entry of people and pets until the spray gets dry
Store it in a ventilated area and protect it from freezing
Dispose of empty gallons of Steri-Fab immediately and don't use it again for other purposes
The Conclusion
Steri-Fab consists of synthetic pyrethroid insecticide & isopropyl alcohol ingredients.
It has multiple properties and usage, which include controlling different types of pests along with bacteria, germs, mildew, and fungus.
Share the post "Steri-Fab Spray Review – Does It Really Work?"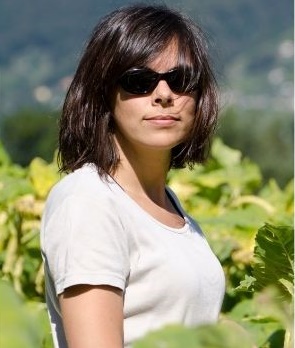 Welcome to ProShieldPest.com. I am Tina Jones. I have been working as a pest removal professional in Winslow, Arizona lately. At present, I love to spend my time with my family as a retiree.
Here I share all my knowledge and experiences to help people understand better how they can stop pests at their homes without actually killing them. Hopefully, the information you will find here will help in safeguarding your home! You can check more about me here.