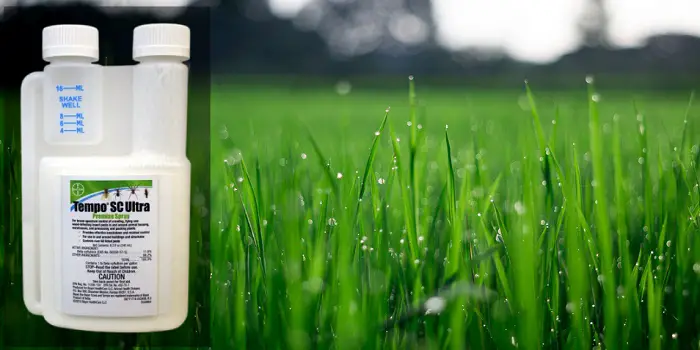 Tempo SC Ultra is a popular, effective pest control product manufactured by the German company Bayer AG, known for its premium products.
What makes Tempo SC Ultra stand out against its competition is its long-lasting nature, effectiveness at eliminating pests, and comparatively safer formula.
Tempo SC Ultra is categorized as a broad-spectrum pesticide, meaning it targets a whole group of pests that are known to damage plants and gardens.
Though Tempo SC Ultra can be used in locations populated by animals and people, it is not safe for use on edible plants, crops, or vegetables.
It explicitly states on the label not to use the product on edible plants, and after extensive research, this warning is extended to all Tempo pesticides.
How Does Tempo SC Ultra Work?
Beta-cyfluthrin is the main chemical in Tempo SC Ultra.
When pests encounter it, their bodies absorb it, giving them stomach poisoning while also targeting the nervous system, creating muscle spasms throughout their bodies.
These muscle spasms work with the nervous system attack to paralyze the bugs and cause them to starve.
Because bugs can't break the chemical down easily like animals and people, it is one of the most effective types of treatment.
For this reason, it can also be used in different settings, such as food service, agriculture, and residential areas.
Tempo SC Ultra has a liquid suspension concentrate formula that makes it easy to disperse when applying.
Its active ingredient won't become unsuspended, so you won't need to re-agitate or shake the mixture to ensure it works effectively.
The Pros
Tempo SC Ultra offers many benefits over other products in a similar niche.
Some of these advantages include:
Animal-safe formula ideal for ranchers, pet owners, and vets
Product effective even on large infestations
Leaves behind zero residue
Safe and compatible for mixing with other pesticides
Targets and kills over 100 kinds of pests
The Cons
Fortunately, Tempo SC Ultra does not come with many disadvantages.
The only major drawback I can find is:
It requires time to properly work and won't instantly kill the insects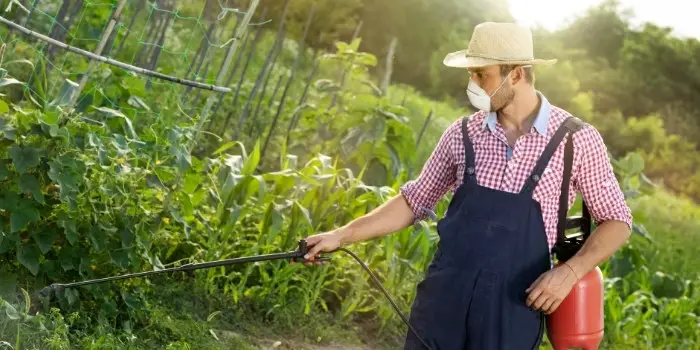 ---
What is Tempo SC Ultra Pesticide Used For?
Usually, Tempo SC Ultra is used to stop pests and insects from damaging plants, though it can also be used to determine which specific insect is causing the problems to begin with.
Ideal for general pest control, Tempo SC Ultra is a solution for eliminating insects on contact, even though it will take time for it to work.
It is commonly used on general surfaces and in cracks, crevices, and tight spots found inside and outside of various structures and their perimeters.
Some of the most common locations include:
General interior and exterior areas
Animal housing
Hard to reach places
Wooded areas
What kind of bugs does it kill?
There are more than 100 kinds of bugs that Tempo SC Ultra has been proven to kill.
Among the most common types of pests it kills are:
Ants
Bedbugs
Centipedes
Flies
Gnats
Millipedes
Mosquitoes
Moths
Roaches
Silverfish
Spiders
Wasps
Yellowjackets
---
How To Mix and Use Tempo SC Ultra Safely in Your Garden?
Getting a proper mixture of the Tempo SC Ultra is important in terms of its efficacy.
Mix one tablespoon, or 16 milliliters, of Tempo SC Ultra per one gallon of water.
This will yield enough product to cover an approximate area of 1,000 square feet of surface area, as a little goes a long way.
This mixture will not only provide proper coverage but also helps reduce the amount of runoff that might occur when using a higher amount of Tempo SC Ultra at one time than is recommended.
Limited runoff means a better effect on the local environment, so you can limit how much Tempo SC Ultra is exposed to the area around it.
Though it may seem logical that more Tempo SC Ultra is needed for larger infestations, this is not true, as adding more to the mixture won't be any more effective than using the recommended amount.
Application Tips
When applying/spraying the Tempo SC Ultra on plants, you should use a pressurized, handheld sprayer to ensure an even application.
Before use, mix the water and the Tempo SC Ultra in the tank of the sprayer to keep the chemical contained as much as possible.
If you don't use the correct sprayer when applying the mixture, you may not get even, widespread coverage.
This could result in a less satisfactory result than the one you were hoping for.
The Conclusion
Although not safe for veggies and edibles in your backyard garden, Tempo SC Ultra can be safely used for other plants, trees, and flowers to keep away pests.
Make sure you mix the product right and use it with all the precautions.
Also, where there are larger infestations, you should talk to a licensed and experienced pest control professional who can help you manage the problem rather than dealing with the problem yourself.
Share the post "Is Tempo SC Ultra Safe for Your Garden Plants?"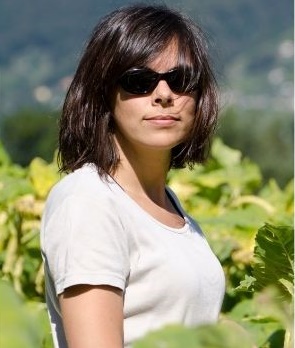 Welcome to ProShieldPest.com. I am Tina Jones. I have been working as a pest removal professional in Winslow, Arizona lately. At present, I love to spend my time with my family as a retiree.
Here I share all my knowledge and experiences to help people understand better how they can stop pests at their homes without actually killing them. Hopefully, the information you will find here will help in safeguarding your home! You can check more about me here.